TAKE THE PLEDGE
Sport A Rainbow is a reminder to be supportive, respectful and kind to each other despite our differences. This support can be shown in your everyday life at school, work, extracurricular activities and in the sporting community.
We are encouraging Coaches, Athletes and Organizations to join the Inclusion in Sport Movement.
By placing a Sport A Rainbow logo on your helmet (CSA approved), or uniform you will be trail-blazing for others in your Sport. The time is now to make change and we want you to be leaders in this movement. 
To order your pledges email Rose at
sportarainbow@gmail.com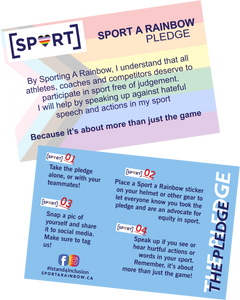 PARTNERSHIP
Thier mission is to create diversity at all levels of the game of hockey. We achieve this by lowering financial barriers for equity deserving BIPOC and female youth, creating representative environments in our programs, and advocation and re-education in the minor hockey community.
AMBASSADOR
KAILEN SHERIDAN
2020 Olympic Gold Medalist Canadian Womens National Soccer Team
"Let's continue to make sport a safe place for all communities, I understand that all athletes, coaches and competitors deserve to participate in sport free of judgement. I will help by speaking up against hateful speech and actions in my sport". ⚽️#lgbtq🌈#blacklivesmatter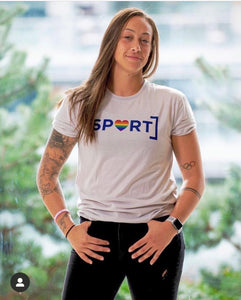 AMBASSADOR
JAMIE LEE RATTRAY
2022 Beijing Olympic Gold Medalist Womens Ice Hockey.
PWHPA Team Harveys
"We are what we repeatedly do. Excellence, then, is not an action but a habit" – Aristotle / "Without commitment, you'll never start. But most importantly, without consistency, you'll never finish." 
AMBASSADOR
"My name is Cole Leptick (he/him/his) and I live my life openly as a transman.
I've been involved in sport from the ages 4-23. Hockey was my main sport which I was involved in for all of those years, but I also played volleyball, basketball and competed provincially in track and field.
Making sure that all spaces are inclusive, welcoming and accepting are extremly important to me. Having felt like an outcast myself for over half of my life has given me the drive to ensure that everyone feels like they belong in any space.
The sport community is much like an extended family - you share space with teammates and parents/guardians all sharing and engaging in activties that usually consume a lot of our precious spare time.
Sport IS for everyone but may not be accessible for all (perhaps a fear of not being respected has kept a lot of young and older folks from participating)
By taking the pledge I have made a promise, not only to myself, but to my younger self who could not speak up out of fear as well as for others who may not feel comfortable in certain spaces.
This doesn't end when the game is over - this is a core life value and should be practiced in our everyday lives which is why I am overjoyed to be an ambassador for the Sport A Rainbow initiative!"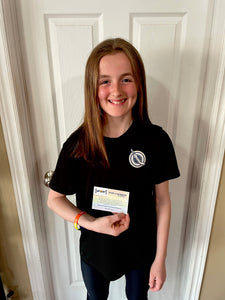 YOUTH AMBASSADOR
Phoenix ( 10 years old ) Curve Lake First Nation
As a member of the Sport A Rainbow Youth Advisory Committee, I took the pledge so that everyone can play hockey and not feel judged. I love hockey and everyone deserves the chance to fall in love with hockey.
YOUTH AMBASSADOR
Ella ( 8 years old )

I love to play hockey and I have 2
moms!
To be on the youth advisory
committee for sport a rainbow would
be incredible because you get to do
cool stuff like helping spread the
message of sport a rainbow. It is
important take the pledge because
you can show that everyone is equal
no matter how they look, who they
love or if you have different abilities.

My goal is to help make sure no one
feels alone or left out and if I see
something not okay I stand up for
them.

I hope I can inspire other kids my age
to do the same as me to help make
the world a better place.